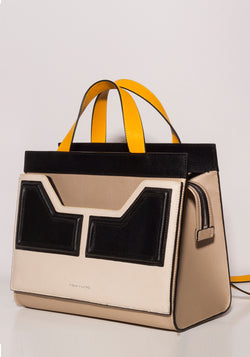 Milano 1321 - Color 44 LIMITED EDITION
GOLD BLACK CREAM SUN
PRODUCT DETAILS:
100% Italian leather

Fabric lining

28.5 x 26.5 x 15 cm

Detachable clutch with metal chain

Adjustable leather strap
USE IT SMART:
Avoid contact with liquids, creams, make-up and perfume

Guarantee against all manufacturing defects for one year

Always attach all 4 buttons of the clutch

Always store in the pp dust bag
SM-ART FASHION
One bag, endless options.
Milano Bag MIL1321
The milano bag, is an all in one versatile bag, it can be used as a handbag, crossbody bag, backpack, and also includes a detachable front "pocket" that doubles as a clutch, Milano Clutch, to be used separately and combined as you wish.
"Modular design". 
Made by creatives, for creatives.
Detachable Clutch

Five Ways To Use It 
1.handbag

   

2.shoulder bag

       

3.crossbody bag

     

4.backpack
Milano Bag MYO (MAKE YOUR OWN)
Make your own unique Milano Bag, pick any color of Milano Bag, then any color of Milano Clutch, to make a customized bag.
PP was founded in 2018 by architect Arianna Pisani Pavone, Venezuelan of Italian descent, certified in Milan-Italy as a bag designer and pattern maker.
"The World of PP seeks to question the conventional and welcome the innovative; by breaking function, rules, forms, materials and volumes to experience within a world where "Everything is invented."
We believe in creating new emotions, making connections that have not been made before, only by reconstructing thoughts and challenging what is already known is that we can experience new feelings, a look into the past to reinvent the future. There are no stipulations, we can modify the rules.
There is always something more." - AP.
We believe in a brilliantly practical way of life, where "all-in-one", multitasking women can be effortlessly elegant, unique, smart and authentic. We design functional bags for them to carry this life with simplicity and in style, with infinite possibilities of performance.
SM-ART
In a world that changes very fast, a piece that has the capacity to evolve with you, can be very valuable; it makes it possible for you to create your own interpretation of it, giving you infinite alternatives. It is fashion, but like art, architecture, history or culture, it is what you want it to be, what it represents to you.
PP BAGS
are the result of a creative journey towards the maximum expression of beauty. A whole universe of creative freedom and self-expression. Our design lines are pure, bold and unconventional. Like a true object of design it looks good and works better.
TIMELESS QUALITY
We work with the highest quality materials and skilled artisans. Our bags are made from 100% genuine Italian leather. Each bag is expertly handcrafted to look and feel soft, structured yet lightweight, and durable. Venezuelan craftsmen constructing PP bags have worked with leather goods for years, now using the best Italian craftsmanship techniques brought to them by PP's founder Arianna, from her time in Italy working with expert bag makers.